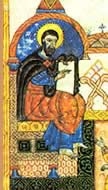 Moses of Khoren from a ms
Back to Table of Contents
Moses of Khoren; Geography of Moses of Khoren (5th century)

----------------------------------------------------------------------
Taken from: Youssouf Kamal: Monumenta Cartographica Africae et Aegypti
Géographie de Moïse de Corène d'après Ptolémée / texte arménien, trad. en français par le P. Arsène Soukry

Is Armenian text according to analysts of up to the 8th century
P2-3
The southern side however inclines towards the submerged pole and has other constellations come up in another way. So Diodorus of Samos says, when talking about Hindouk that when going (by ship) to Limirikon one has Tawron in the middle of the sky and Plawda in the middle of Kerea. Then when going to Azania close to the middle of the earth the star Kamabores appears after that one. And in the middle of them Aprotikon. One says still to have observed many other things up to the dry zone to go and meet what is generally known travelling through the Etowpiens, coming from the land of Akisimba about cape Prasum on the route towards invisible underworld coast.........
P6-7
I am persuaded of what the men of Ptolemy, who traveled around the torrid zone said, they described the nations minutely, the confines of their pasture, measured the Acisimpa from Mount of the Moon to the unknown land. They went near the unknown land, from one end of the ocean to the other end.
P25
….also Egypt has a river called Nelos which is the Gehon. It originates in the mountains of the moon in the unknown lands of the south, and goes directly to Egypt ........
P27
The country has eight mountains, and three regions, Barbaria near Sinus Barbaricum, Azanie, where there are a multitude of elephants, and the Troglodytes; and thirty-six provinces, one of which is called the Babylonians and the Rhizophagi, and the famous kingdom Auxomitae in front of Premnis which is a promontory.
P28
On the north side are the Ethiopian ichthyophagous, and the beasts called cynoleons; the Aphroceros in which there is an animal that resembles the giraffe….
P29
East of there are the Eteowpiens with high heads; and into the interior the Eteowpiens who eat people. There is also a small river called Raptos.........
.