Note on the Giraffe painting in one copy of Jahiz Hayawan/ Fatimid Giraffes .
---------------------------------------------------------------------------------------------------
Taken from: Meinecke-Berg, V. 1999: Fatimid painting on tradition and style: the workshop of Muslim.
http://www.qantara-med.org/qantara4/public/show_document.php?do_id=1102
http://museumwnf.org/islamicart/database_item.php?id=object;ISL;it;Mus01_C;45;en
The giraffe painting (a caparisoned giraffe) as found in one copy of the Kitab al-Hayawan (Book of Animals)
by al-Jahiz probably from Syria, 14thc; Biblioteca Ambrosiana, is not an isolated case during Fatimid times
several others have been produced having been copied from closely related sources.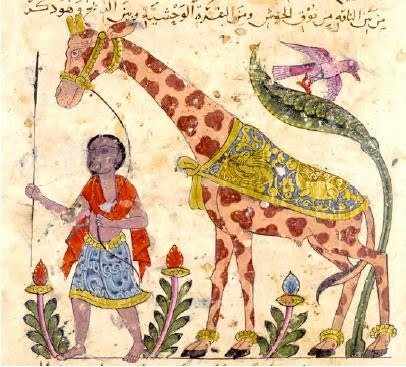 Muslim ibn al-Dahhan (around 1000) Ceramic Bowls Egypt
(now in Athens and Berlin)
--------------------------------------------------------------------
Taken from:
http://www.qantara-med.org/qantara4/public/show_document.php?do_id=1102
In the centre, a caparisoned giraffe is conducted by a character who seems to run by pulling her halter. He wears a tunic
with short sleeves marked with two bands, a sort of loincloth and a pointed turban. On the other side of the giraffe a stylized
tree, seeming to bend under the fruit that forms a curve that follows the contours of the flat and balanced composition.
 The accuracy of the details in both the anatomy of the animal (accurate representation of the head and hair on the belly
and under the tail) and in its harness (halter, decorative horns ...) made R. Ettinghausen call this, one of the best examples
of Fatimid realism, in opposition to the Abbasid stylized forms. V. Meinecke-Berg has connected this dish with fragments
preserved in Berlin, where the same scene is shown twice, in symmetry. These fragments are signed Muslim, a well-known
potter of sixty signed pieces of very different styles, which probably worked in Fustat during the reign of Caliph al-Hakim (d1021).
The ceramic bowl from Berlin and the painting in the ms of Jahiz have in common the shape of the black spots on the
giraffe that consists of groups of 3 circles.
Ivory Casket  (Berlin Museum) (around 1100) Sicily
-------------------------------------------------------
Taken from: http://www.discoverislamicart.org/database_item.php?id=object;ISL;de;Mus01;12;en&cp
A rectangular casket, with a desk-like lid, made of individual pieces of ivory that have been joined together. The lid is
attached by two silver clasps/hinges, which were made at a later date, and the padlock has been lost. Various holes
that have been bored through the casket demonstrate its chequered history and the possibility that it had an indefinite
number of iron fittings. A great variety of animals are represented: lions, hares, ibex, stags, camels, giraffes and birds.
In the right corner of the back site of the lid, a caparisoned giraffe is conducted by a Fatimid infantryman with a small shirt,
a large round shield and two double ended javelins.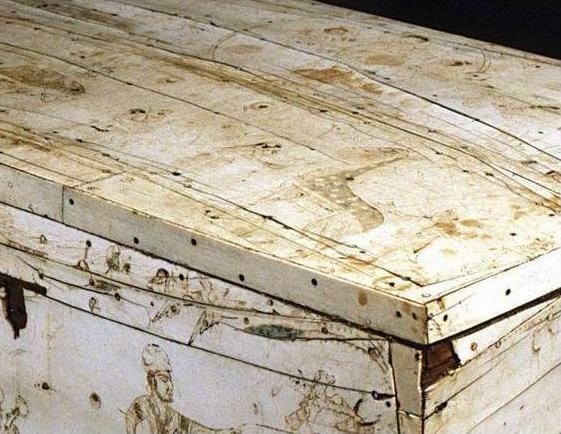 Ivory casket, Sicily (12th)
-------------------------
Taken from: Ernst J. Grube; The painted ceilings of the Cappella Palatina
Paintings on the cover and the front and back of an ivory casket, Sicily, 12th century. Palermo, Cappella Palatina,
Treasury. This giraffe is also ornamentally covered (caparisoned). Together with the giraffe in the ms of Jahiz they
form the collection of caparisoned giraffes.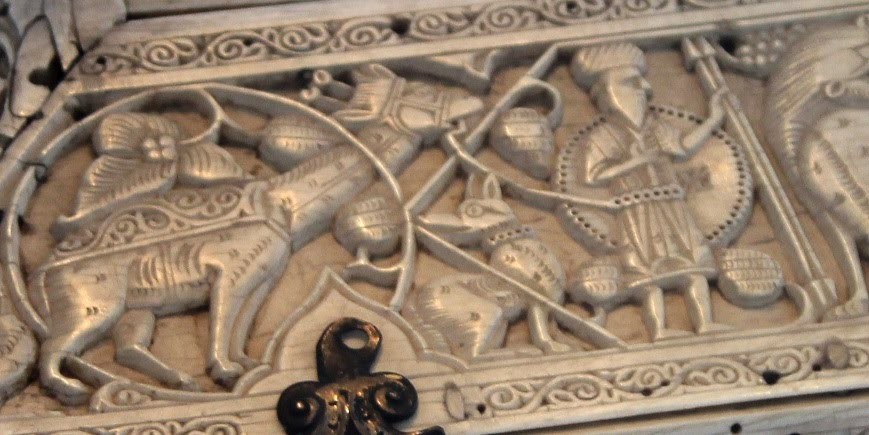 Taken from: Inventory of the Objects in the Art Division of the Museum at ..., Volume 1
By South Kensington Museum Art Division
Silk Tissue Two fragments green ground with elaborate damask pattern not complete
but having as a principal feature two giraffes of which the heads are in purple silk Sicilian End of 13th century.
+Silk Damask Green and purple with pattern of peacocks and giraffes among floral ornaments Sicilian 14th century.